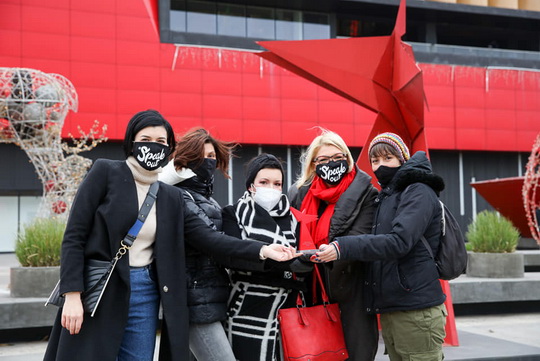 JOURNALISTS AGAINST VIOLENCE AGAINST WOMEN is a group of more than 70 journalists and editors who fight violence against women in an organized, public, and emphatic manner. The group advocates that in media reports of violence against women, this issue must be presented, treated, and examined as a social problem – to point out its causes, clearly condemn any form of violence, and call to account the perpetrators of violence and the institutions responsible for protection against violence.
We believe that by reporting in such a way, journalists demonstrate that they respect the code of their profession and the dignity of the persons they are writing about, and, most importantly – that they strive to not endanger the safety of the victim. Through responsible reporting, we support women survivors of violence to get out of violence, and we encourage society to see violent behaviour as absolutely unacceptable. As a result of inadequate or stereotypical media coverage, a general "normalization" of violence in public opinion has been established.
"Journalists against Violence against Women are working to build a network across Serbia that will contribute to the fight against violence against women through joint media activities..
The group is engaged in numerous activities, the most important of which are:
annual monitoring and analysis of media coverage of violence against women;
advocating for reporting in accordance with the Guidelines for Media Reporting on Violence against Women;
developing and promoting a free database of photographs and illustrations in accordance with the standards for ethical media reporting;
educational workshops for media workers on professional reporting on violence against women;
establishing cross-sectoral cooperation, communication, and learning, with institutions and organizations dealing with the phenomenon of violence against women; and
networking with, empowering, and supporting journalists to deal with gender-based violence inside and outside newsrooms.